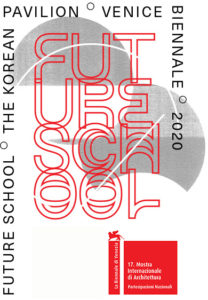 Seul 08.2020  –  Naples 8-11.09.2020  –  Venice 14-18.09.2020
COOL CITY, a collaboration between Kyong Park (UC San Diego), Alexander Valentino and Cristiano Luchetti (Laboratorio Architettura Nomade in Naples, Italy), and Mijoo Park (RAT School of Art in Seoul, Republic of Korea), is a project to investigate the reuse of underground rivers, creeks, and springs to cool cities, particularly urban "heat islands." The project is participating in the Future School/Korean Pavilion curated by Haewon Shin at the 17th Architecture Venice Biennale.
The multidisciplinary research/action proposes urban experimentation aimed at achieving the following objectives:
Resilience to climate change

Urban regeneration

Urban re-naturalization

Protection and increase of biodiversity
Cool City introduces itself as a tool to spread the notion of water as a common good to safeguard the right of current and future generations to enjoy this environmental heritage. Furthermore, Cool City envisions the use of water that avoids waste and increases the livability of the environment, thereby ensuring biodiversity.
Bringing together ideas from urban design, hydraulic cooling systems, environmental engineering, biology, urban sociology, archeology, and geology, Cool City will begin by exploring and mapping the highly developed river and creek-based linear park system of Seoul. After that, it will move onto Naples to study its unique and volcanic geology, through lectures, round tables, guided tours, tutorials, collection of data, and in-field experiences aimed at the production of the Water Atlas of Naples and Seoul.
The final stage will see Cool City moving to the Korean pavilion at the 17th Architecture Venice Biennale. The learnings and study of the two cities will be integrated to imagine macro/micro-urban interventions. Cool City is looking for ideas and designs that can improve the quality of cities' "green" and "blue" areas, achieving increased biodiversity through urban re-naturalization, alternative cooling infrastructure, increase resilience to climate change, and urban functional regeneration.
The CoolCityLab workshops are open to all students, and they will take place in Naples (8-11.09.2020) at the Laboratorio Architettura Nomade, and in Venice (14-18.09.2020) at the Korean Pavilion, in the Giardini area of the Biennale.
For more info: info@coolcity.it