VIS-101A: Designing Urban Ecology
Cool City
Instructor: Professor Kyong Park
kdpark@ucsd.edu
ZOOM for the class meetings
Mondays 9-11:50am San Diego time
Office Hour: Tuesdays 5:30-6:30pm or by appointment (via email or Canvas)
This course will be about research and speculative design about how to make cities cooler by using water in the most environmentally responsible and natural way.
As cities have grown bigger and bigger, most of their creeks and rivers have been buried by roads, buildings and other urban developments. Thereby, most of the land surfaces are now covered by asphalts, concrete and other artificial and non-porous materials. They trap and produce heat, raising temperatures of our living environment that requires greater use of air conditioning or other devices, which then require more electricity and other types of power, which then consume ever more natural resources needed to generate more power, which then causes not only greater pollution and waste, but also keep making our cities even hotter and hotter. It's an endless road to hotter and hotter cities.
This course will start with you researching how people kept their houses, buildings, villages and cities before fans and AC came along, such as fountains, aqueducts and other water distribution systems, water gardens and other historical and contemporary examples of how water was used for cooling purposes. You will also research about new devices and methods of cooling our living environment in sustainable ways (January 4-31). This will be accompanied by four guest lectures that will show you various urban design projects that use renewable energy and environmentally sustainable architecture designs.
Using your research and guest lectures, you will then speculative design the use of water to cool selected sites in the city of Naples (Italy) and Seoul (South Korea) from February 1 to March 8. Some of you would be assigned to design a new urban park by restoring a section of Sebeto River in Naples, using the restoration of Cheong Gye Cheon creek in Seoul as a reference. Others would be assigned to design a small community park around an old water well, or to develop a new engineered system for a geothermal cooling and heating system that could be used in existing and new buildings in Seoul.
The above speculative design will be done by a team of three students, assigned based on different interests and skills, while the research will be done individually.
Cool City is a part of the project Future School for the Korean Pavilion at the Venice Architecture Biennale 2021 in Italy. Selected works from this course will be encouraged to be further developed and exhibited in the Venice Architecture Biennale.
All classes will begin at 9:00am, and will include the following guest speakers and discussions.
January 4 – 9:30-10:45am :Lecture by Cristiano Luchetti (from Dubai)
The Urban Regeneration of Al Nasserya.
The Department of Planning and Survey and Urban Planning Council of Sharjah UAE recently started independent initiatives to explore and propose ways by which deteriorated neighborhoods. The mandate is to maintain the existing housing stock (structurally intact ones) and offer enhancements to those areas' public realm and social infrastructure based on each neighborhood's needs and specificity. One of the mandates is to find ways to attract Emirati families back to these neighborhoods without necessarily displacing the existing population.
The Urban and Architectural Design Studio at the American University of Sharjah in fall 2019, first investigated through mapping, surveys, and fieldwork the existing conditions of Al Nasserya, thereafter-proposed innovative solutions grounded on the findings of the research. The aim was to develop alternative means of intervention other than conventional approaches with a focus on sustainability. The lecture will introduce the design outcomes of the studio. The project won multiple national and international awards including Honorable mention / World Design Award 2020, Critics Award / XXX International Seminar and Award for Architecture and Urban Culture – Camerino, and Sustainable Architecture Design in Buildings Outstanding
Team Award / 8th Sharjah Sustainability Awards 2020.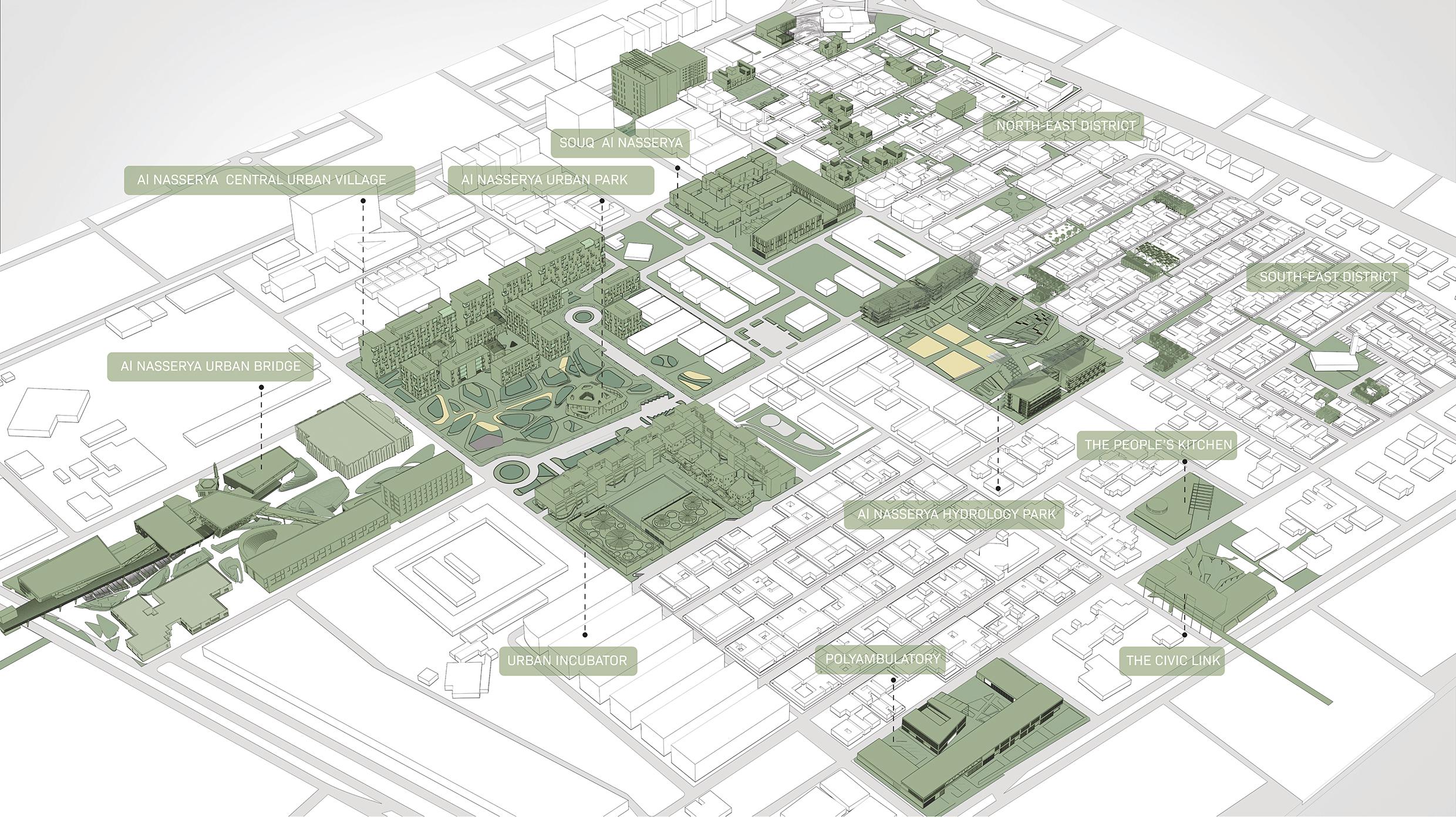 Cristiano Luchetti is an architect, a researcher, and an educator. As practicing architect, he led the design of large-scale projects in residential, commercial, and hospitality sectors in Europe, China, India, Middle East, and Southeast Asia. He is currently pursuing his Phd at the Universita' Politecnica delle Marche in Italy and he is an adjunct professor of architecture at Heriot Watt University Dubai Campus. As Associate editor of Compasses, he regularly writes about the architecture and urban development of the Middle East. Cristiano co-curated the Egyptian Pavilion at the 2018 Architecture Venice Biennale. The pavilion gained international recognition and was shortlisted in the World Architecture Festival 2018 Display Built Projects category and won the Honor Award at Cairo Design Award 2018
11-11:50am – Discussion on the syllabus
January 11 – 9:15am—10:30am: Lecture by Alexander Valentino (from Naples)
Cool City Naples: Reinvention of urban spaces toward an organic and natural
metropolis
Urban spaces in Naples are strongly characterized by the abundance of various natural elements that have defined and supported the life of its inhabitants. This balanced relation between human and nature remained almost unchanged for millennia. But strong urbanization of the last few hundred years, nature and the water of Naples have given way to cement and other artificial materials, through modernization and developments, like so many other cities. As the result, the nature of Naples is relegated, confined and hidden. This lecture will be about Naples' attempt to return to symbiosis with its nature that has historically defined its culture and urban heritages.
Alexander Velentino is an architect who studied photography at Akademie der Kunst Berlin in 1986, graduated in Architecture at the Federico II University of Naples after a year of study of Erasmus in the Bauhaus Weimar. He then worked as interior designer on renovation projects in Naples, while supporting the protection of industrial landscapes that were threatened with demolition. Between 1999 and 2000 he studied at the Bartlett School of Architecture in London for a master course and collaborated in a number of radical architecture projects. In Balham, he founds CODOTUA, space for artistic events, before moving to Rome as a member of Stalker (2002-06), and co-founded the Observatorio Nomade, where he produced and curated many
exhibitions. In 2000, he founded LAN (Nomadic Architecture Laboratory) in Naples, and collaborated with various North American university programs. In 2007-09, he coordinated the European Roma Mapping research project funded by the European Culture Agency in Rome, and curated the exhibitions of the project's work, and then published the project book edited by Black Dog Publishing. 2013-15, he was the first facilitator for Romact-Romed, Social Inclusion Programs founded by the Council of Europe and the European Commission, and from 2015-17 he co-coordinated the ROMACT project in Italy. Currently, he is working on the Cool City project proposal for Horizon EU funding program, in cooperation with ABC (The Neapolitan Aqueduct Company).
10:45-11:50am – Research Assignment Presentation and Discussion
January 25 – 9:15am-10:30am: Lecture by Steven Velegrinis (from Dubai)
"Upending the Logic: Inverse Urban Heat Island Effects in Arabian Gulf Cities
Most cities around the world suffer from heat islands, an outcome from the process of urbanization. In the Arabian Gulf however, urbanization has led to an Inverse Urban Heat Island effect. Water and the cautious (re)use of water plays an essential albeit indirect role in this urban alchemy. Through the lens of a landscape manifesto for a new city in the Middle East, this lecture will outline how we can use the experience of cities such as Dubai and Singapore to address Urban Heat Island Effects."
Steven Velegrinis is Director of Urbanism+Planning in Aecom Middle East and Africa.
10:45-11:50 – Discussions and feedbacks on your research
Feb 1 – 9:15am-10:30am: Lecture by Raffaele Marone (from Naples)
Inhabiting Water and Fluidity of Architecture
The lecture will be developed in two parts. The first part is the poetic of "exalted architecture," such as the inside/outside relation in a building, the scale and the body, space as sequences, states of mind into the space, sound and space, contemporaneity as continuous transfiguration of historical elements. With the states of mind as the core to perceptions of space, architecture design shapes the structure of "exalted living space" where different sensual effects in different spaces.
The second part is about how opposite density lives together in architectural spaces, such as emptiness for human living and fullness for water. In other parities of architecture, there is the relationship of the buildings with urban and natural landscape, the role of time in the perception of a living space. Architect Marone will also talk about water in architecture, such as aqueduct facilities (water reservoirs, pumping station), a river sound listening room, a floodable exhibition building in a river bed, pools in a dwellings and services
complex, and how water can be used as a sort of a fluid construction material creating different states of mind in living spaces in "exalted architecture.".
Raffaele Marone (PhD, architect) has been assistant professor in Architectural Design since 1997, first at Sapienza Università di Roma (1997-2009), then at Università della Campania "Luigi Vanvitelli", Department of Civil Engineering (2009-2018) and currently at Department of Architecture and Industrial Design. He was awarded with the "Luigi Cosenza" Architecture Award (1994) for the aqueduct facilities in a public natural reserve. He has been guest
professor, visiting critic and lecturer at various international seminars and workshops, and has carried out research and taught at universities of Napoli, Rome, Porto, Lausanne, Milan, Paris. He was curator of "Lugares / Lenguajes. Experiencias de la enseñanza del proyecto en Italia y Europa" (2003) at Universidad Nacional de Colombia (Bogotà, Medellin) and Sapienza Università di Roma. He has published projects, articles, essays, including the books titled "Spazi scritti" (2004), "Architecture Continuous Pursuit" and "Pensare per spazi Vedere e immaginare come un architetto" and "Pensare per spazi Esercizi per il progetto d'architettura" in 2012, and "Ovunque è architettura Fatti dello spazio che abitiamo" in 2018.
Assignments due dates
January 17 Preliminary Research outline
January 20 My response
January 31 Final Research submission
Feb 8 Design Workshop
Feb 22 Preliminary Design
March 8 Final presentation with guest critics (TBA)
Grading
Research 40%
Design 60%
Late penalty TBA
Everything is this content is subject to change by the course instructor