Born in Naples the 18/08/1970, resident in Sardegna, Villa Zanzara, Loc. Mitza Caria, Capoterra (CA). giaalef@gmail.com www.pata-atlas.jimdo.com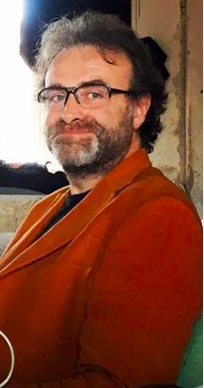 Degreeat the Liceo Artistico Statale of Napoli in 1987
Degree at the Istituto Patafisico Partenopeo 2003
Pertinent Artistic Experience
2015 to present – Development of a Pataphysical Atlas which will form a printed collection of my world maps drawn over the years. These pataphysical maps include Fractaland, Morph-World and Planisphere Palindrome. See the maps on my website www.pata-atlas.jimdo.com for more details.
2006 to present –Creation, with four other people, of the alternative currency SCEC, which originated in Naples and is now circulating at a national level with more than 20,000 participants. I also designed all the SCEC notes used so far. See www.arcipelagoscec.net for more details.
2001 to present – Responsible for the graphic design and production of the folded poster Patapart – an annual publication of the Istituto Patafisico Partenopeo. See http://pata-atlas.jimdo.com/patapart/ for more details.
2007 – Creation of a unique copy of the book Libro Contabile per una Chimera Pecuniaria for the foundation of the OPificio di EConomia POtenziale (OPECOPO) during the first international meeting of pata-physicists in Naples. See http://pata-atlas.jimdo.com/eco-echo/ for more details.
Relevant Exhibitions
2009 – CaSO4 at the Teatro Instabile in Naples
2008 – Caval-Càvia at the Centro Hurtado in Scampia, Naples for the Corrispondenze di Frontiera exhibition
2006 – Geo-Tao (Palindrome Planisphere) at the Premio Razzano, Benevento
2005 – Fatti coi Piedi at Che Fine ha Fatto Luther Blisset? at the Galleria BAC, Bargecchia (Lu)
2005 –  Il Vuoto A-Rendere at Nero di Scena, S.Maria la Nova, Naples
2004 – Pompe à Merdre at the Pataphysics Evening at the Grenoble Institute, Naples
2000 – Ora-Column with Luigi Urso at Premio Capri per l'Enigma, Capri, Naples
2000: I 26 Umori della Lingua at the Codotua Gallery in London
1998 – Portrait of Mario Persico at Incontri 98, Caserta
1997 – Ritratto di Cadavere at the Italian Institute of Culture, Barcelona
Awards
2000 – Second prize at the Spirito Divino competition for satirical illustration.
http://www.winenews.it/print/news/00980/buon-bere-e-allegria-un-binomio-celebrato-con-il-concorso-spirito-di-vino-in-giuria-i-vignettisti-forattini-e-giannelli
1998 – One of ten winners among 567 participants at the international graphic design competition Football Culture du Siècle organised by the Ministry of Sport in Paris.
http://www.graphismeechirolles.com/francais/depuis1990/archives/memoire/1998/MG98_FOOT.html